Die Cut Boxes Manufacturer and Supplier
Manufacturer of all type of Die Cut Boxes in Various Sizes and Various Shapes
Our die-cut boxes are tough and thin, it is best in quality and more water-resistant. Die-cut boxes are made from pure wood pulp with bleach liner on one side. Die-cut boxes are available in various sizes and shapes. Quality die cut boxes are also available in custom printing option, that require high-quality printing. Custom die cut packaging boxes are available with CMYK offset printing options.
Our die cut boxes are available in different quality paper boards as per customer requirements, with different sizes, in various designs, and also in various color options. Our die-cut boxes are the best cost-effective solution. Foldable Die-cut boxes are very easy to fold and can be stored in less space.
No matter how other materials are available in the market, corrugated die-cut folding boxes are one of the best choices for various packaging purposes. If you are also in search of die-cut corrugated packaging boxes, then Mr Paper Cup is the best solution for all your demands. Our premium single wall white corrugated boxes are thin, lightweight yet tough and durable enough.

Being one of the products of white corrugated boxes supplier, our die-cut boxes in Gujrat are formulated with authentic wood pulp with bleach liner. We are a massive corrugated die-cut boxes manufacturer that is capable of delivering high-end die-cut boxes in Surat. Our boxes are vacant in miscellaneous sizes, shapes, colours and designs.

The boxes we provide are famous for their immense strength and exact magnitude as per the client demand. Being one of the leading die-cut corrugated box supplier, our boxes can be customised and accessible with CMYK offset printing technology. Our die-cut boxes are easily foldable and less costly than the boxes made with other materials.

We are assuring you that if you take our corrugated die-cut boxes, it surely wouldn't make you complain about anything. So grab our corrugated boxes now.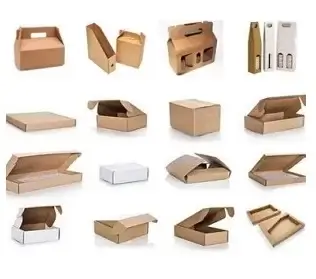 Features of Die Cut Boxes
Die Cut boxes are light-weight
Best in quality and strength
Accurate dimensions as per customer requirement
CMYK Offset printed die cut box